Denver C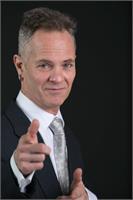 Denver is the sweetest!! He is magical and fun and sometimes he sings. But he is also a great writer and should tell you all about it!!
Denver C instructs the following:
Bikram Yoga is an amazing 90 minute class specifically designed to work every muscle, bone, joint, ligament, tendon, gland & organ in the body. While improving strength, balance & flexibility, you will reshape & heal your body as well as relieve stress & tension. Additional benefits include the prevention of illness, injury and the limiting effects of aging. Students of all levels and ages benefit from this total body workout.