Denver C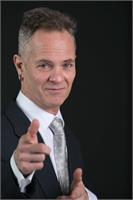 Denver is the sweetest!! He is magical and fun and sometimes he sings. But he is also a great writer and should tell you all about it!!
Denver C instructs the following:
Bikram Yoga is an amazing 90 minute class specifically designed to work every muscle, bone, joint, ligament, tendon, gland & organ in the body. While improving strength, balance & flexibility, you will reshape & heal your body as well as relieve stress & tension. Additional benefits include the prevention of illness, injury and the limiting effects of aging. Students of all levels and ages benefit from this total body workout.




You know how when you train for a marathon you're supposed to do cross-training days throughout the week? That's what yin yoga is for Bikram! In this class, we practice letting go, both mentally and physically. We start with syncing movement with breath, and go on to hold poses for longer periods (3-5 minutes). Holding poses for longer also works into the connective tissue, which is not as elastic as muscle, thus requiring longer activation times. The mood is chill; whether you want a challenge or are just looking to relax is up to you!