Patrice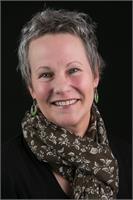 I started practicing Bikram Yoga 10 years ago and have been teaching for 4 years. Having always worked out, from Jane Fonda (yes – I'm older!) to the gym for aerobics and nautilus, I discovered nothing made me feel or look as good as Bikram Yoga. The greatest benefit that I received was an end to chronic sinus infections, bronchitis and exercise induced asthma. The Bikram Yoga style not only improves flexibility, strength and endurance, it strengthens the lungs, and improves all systems of the body including, but certainly not limited to, the immune, digestive and endocrine systems. And my skin! I rarely wear any body lotion anymore- even in our dry Minnesota winters. When asked if I would rather teach or take a class, I sometimes hesitate. I love sharing this yoga! I want everyone to feel this good. After yoga – I love a good story either in books or movies. My other loves are dancing (most of which takes place in my living room), music, and laughing.
Patrice instructs the following:
Bikram Yoga is an amazing 90 minute class specifically designed to work every muscle, bone, joint, ligament, tendon, gland & organ in the body. While improving strength, balance & flexibility, you will reshape & heal your body as well as relieve stress & tension. Additional benefits include the prevention of illness, injury and the limiting effects of aging. Students of all levels and ages benefit from this total body workout.