zsuzsi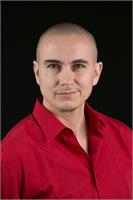 Zsuzsi Rocks the House!! And she has more tattoos than all of us combined!
Someday she'll tell you what each one means...
zsuzsi instructs the following:
HY stands for Hot Yoga, the 26 postures and 2 breathing exercises brought by Bikram Choudhury from India. This class is where a teacher practices and you joining, so a bit more fast paced than the 90 minute class and a lot less instruction. If you have never practiced before, don't be scared, just do the best you can. It all feels good!!
*This class may or may not have background music depending on the teacher and students.