paula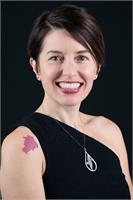 Paula first came to yoga through Bikram, starting in her Ph.D. program. She continued practicing yoga while a university professor and researcher, living in France, Canada, and Germany, but she realized something wasn't clicking with her desk job -- she needed more. She decided to leave her academic position in Tübingen, Germany, go to Berlin for one month, then come back to the U.S. and decide what to do next. However, in Berlin, she became involved with the dance scene (dance is a lifelong love), and ended up spending two years there, doing contemporary dance training and performances. Now back in her home of the Twin Cities, Paula is a ballroom and social dance instructor. Paula received her yoga teacher training at the Yoga Barn in Bali, and teaches yin and vinyasa styles. Paula finds yoga helps her manage her endometriosis symptoms. She is passionate about women's health issues and the healing power of yoga.
paula instructs the following:
You know how when you train for a marathon you're supposed to do cross-training days throughout the week? That's what yin yoga is for Bikram! In this class, we practice letting go, both mentally and physically. We start with syncing movement with breath, and go on to hold poses for longer periods (3-5 minutes). Holding poses for longer also works into the connective tissue, which is not as elastic as muscle, thus requiring longer activation times. The mood is chill; whether you want a challenge or are just looking to relax is up to you!




In Slow Flow, we practice moving with breath and awareness, gently lengthening the body as we slow down at the end of the day. There is no set sequence of postures, though you'll recognize many from the Bikram series. The temperature is ~ 90 degrees. A wonderful preparation for a good night's rest!!